Waarom zou je ervoor kiezen vandaag nog een nieuw naambord aan te schaffen? Daar zijn verschillende goede redenen voor te bedenken. Misschien is de huidige naamplaat inmiddels zo verweerd geraakt dat je naam nauwelijks nog leesbaar is? Of je gaat binnenkort verhuizen en hebt behoefte aan een mooi, modern naambordje inclusief huisnummer? En dan kan het ook nog zo zijn dat je gewoon toe bent aan iets hippers bij de voordeur.
Nieuw naambord? Van RVS tot hout!
Als je besluit je naamplaatje te vervangen, staan er talloze opties tot je beschikking. Allereerst qua materiaal. Hier op De Naambordensite kun je onder meer kiezen voor acrylaat, RVS, gravoglas, messing, kunststof en keramiek. Deze opsomming is zeker niet volledig; als je kijkt op onze homepage zie je links op alfabetische volgorde alle mogelijkheden onder elkaar staan. Als je vervolgens klikt op een van de categorieën, krijg je allereerst een bondige omschrijving van die bepaalde serie. En daaronder je ziet foto's van afzonderlijke modellen. De afmetingen en de prijs hebben we er natuurlijk bij gezet.
Een huisnummer met- of zonder tekst?
Met een mooie naamplaat bij de voordeur geef je eigenlijk een soort uniek visitekaartje af. Je stelt je zelf voor en laat weten dat bezoek en de pakjesbezorger meer dan welkom zijn. Als jij veel waarde hecht aan een naamplaatje, dan zul je zeker een passend exemplaar vinden in onze online shop. Er zijn kunstzinnige borden van blauwsteen, basic plaatjes van kunststof en bijzondere ontwerpen in Engelse stijl. Je kunt ook kiezen voor een plaatje met huisnummer. Of alleen een huisnummer, zonder tekst.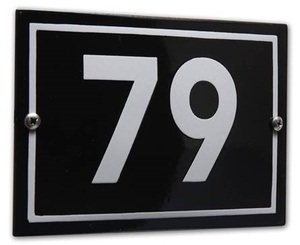 Wat er anno nu leverbaar is op het gebied van naamborden, vind je allemaal bij elkaar verzameld bij De Naambordensite! Bestellen gaat heel eenvoudig in een paar klikken. Onze levertijd is gemiddeld twee tot vijf werkdagen. Bezorgingen in Nederland zijn gratis. In landen binnen de EU hanteren we een bedrag van € 4,50. Voor vragen kun je contact opnemen met De Naambordensite-klantenservice: 0251-241364 en info @ denaambordensite.nl. Tot snel!
https://www.denaambordensite.nl/